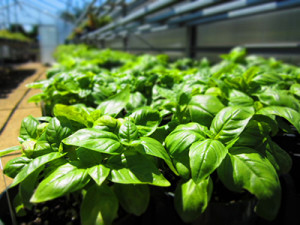 For years K & A Greenhouse has carried an extensive collection of herbs and this year, we will be selling many new vegetables – both organic and non-organic. Urban farming is all the rage these days! You can grow vegetables just about anywhere – in the backyard, on your porch or balcony, in a container, or with your neighbors in a nearby community garden.
Any great chef will tell you that there is no substitute for fresh veggies and herbs! So, if you have not tried growing your own vegetables or adding fresh herbs in your salads, casseroles, sauces, and other dishes, this is the year to start. Cooking is not the only use for the many herbs that we carry, some herbs can be used in potpourri, others have alleged medicinal values, and numerous others have attractive flowers and/or foliage.
Our plant inventory is constantly changing throughout the season. If you have any questions regarding any of the herbs or vegetables listed below simply contact us and we will be more than happy to assist you in any way we can.
Basil Genovese – Organic
Basil Sweet Thai – Organic
Basil Mrs. Burns' (Lemon) – Organic
Basil Red Rubin – Organic
Chamomile Roman – Organic
Chives Garlic – Organic
Cilantro Calypso – Organic
Curry Ornamental – Organic
Dill Bouquet – Organic
Dill Fernleaf – Organic
Fennel Bronze Sweet – Organic
Lavender Munstead – Organic
Lavender Hidcote – Organic
Lavender Fat Spike (Grosso) – Organic
Lavender Spanish Eyes – Organic
Lemon Balm Melissa Officinal – Organic
Lemon Grass East Indian – Organic
Marjoram Sweet – Organic
Mint Apple – Organic
Mint Chocolate – Organic
Mint Doublemint – Organic
Mint Mojito
Mint Peppermint
Mint Spearmint – Organic
Oregano Greek – Organic
Oregano Italian
Oregano Hot & Spicey – Organic
Parsley Forest Green (Curly) – Organic
Parsley Italian (Flat) – Organic
Rosemary Goriza – Organic
Rosemary Upright – Organic
Sage Common/Garden – Organic
Sage Pineapple – Organic
Sage Purple – Organic
Savory Winter – Organic
Stevia Sweetleaf – Organic
Thyme Lemon – Organic
Thyme English – Organic
Thyme French – Organic
Thyme Creeping – Organic
Thyme Winter German – Organic
Verbena Lemon – Organic
More herbs are on the way!
2017 Veggies List
Broccoli Imperial – Organic
Broccoli Packman
Cabbage Mixed Varieties – Organic
Cauliflower Janvel – Organic
Celeriac Brilliant – Organic
Celery Tango – Organic
Chard, Swiss Bright Lights/ Rainbow – Organic
Cucumber Bush Crop
Cucumber Bush Pickle
Cucumber Marketmore 76 (Slicing) – Organic
Cucumber Little leaf (Pickling) – Organic
Cucumber Straight Eight
Cucumber Burpless Garden Sweet
Cucumber Burpee Hybrid II
Eggplant Black Beauty
Eggplant Ichiban
Eggplant Nadia – Organic
Eggplant Orient Express – Organic
Fennel Orion (Bulbed) – Organic
Eggplant White Star
Kale Lacinato – Organic
Kale Red Boar (Red) – Organic
Kale Red Russian (Red) – Organic
Kale Westlander (Curly) – Organic
Leek King Richard – Organic
Lettuce Arugula – Organic
Lettuce Mesclun Mix – Organic
Lettuce Mixed Varieties Tray – Organic
Onion Red Wing (Red) – Organic
Onion Sedona (Yellow) – Organic
Pepper Ace – Organic
Pepper Ancho Poblano (Hot) – Organic
Pepper Bhut Jolokia Ghost  (Hot) – Organic
Pepper Bianca – Ivory Ivory Bell – Organic
Pepper Big Bertha Sweet Bell – Organic
Pepper Big Bertha Red
Pepper Big Jim-Numex Anaheim Chili (Hot) – Organic
Pepper Biggie Chile Anaheim – Organic
Pepper Boris Banana (Sweet) – Organic
Pepper California Wonder
Pepper California Golden Wonder Yellow Bell (Sweet) – Organic
Pepper Caribbean Habanaro
Pepper Caribbean Red Habanero Chili (Hot) – Organic
Pepper Carmen Sweet Italian – Organic
Pepper Cayenne – Ring 'o Fire Cayenne (Hot) – Organic
Pepper Cherry Bomb Specialty (Hot) – Organic
Pepper Chocolate (Sweet) – Organic
Pepper Golden Bell Yellow
Pepper Gourmet Orange Bell – Organic
Pepper Gypsy
Pepper Habanero (Hot) – Organic
Pepper Hot Banana
Pepper Hot Mix – Organic
Pepper Hungarian Hot Wax Hot
Pepper Hungarian Sweet Banana
Pepper Jalapeno – Organic
Pepper King Arthur Sweet Bell Green – Organic
Pepper King of the North Sweet Bell – Organic
Pepper Lady Bell Red
Pepper Orange Gourmet (Sweet) – Organic
Pepper Pepperoncini Hot
Pepper Pimento Elite
Pepper Piky Nu
Pepper Purple Jalapeno Hot
Pepper Serrano Tempiqueno
Pepper Tabasco
Pepper Thai Hot Chili (Hot) – Organic
Pepper Tormenta Jalapeno (Hot) – Organic
Pepper Yum Yum (Sweet) – Organic
Squash Zucchini Aristocrat Green
Squash Green Zucchini – Organic
Squash Yellow Crookneck – Organic
Squash Yellow Straight Neck
Squash Winter Acorn – Organic
Squash Winter Butternut – Organic
Squash Winter Spaghetti – Organic
Tomato Amish Paste (Heirloom) – Organic
Tomato Aunt Ruby's (Heirloom) – Organic
Tomato Beefsteak – Organic
Tomato Better Boy
Tomato Big Beef – Organic
Tomato Black Krim (Heirloom) – Organic
Tomato Brandywine (Heirloom) – Organic
Tomato Burpee Big Boy – Organic
Tomato Big Rainbow
Tomato Black Cherry Cherry (Heirloom) – Organic
Tomato Black Krim Slicer (Heirloom) – Organic
Tomato Box Car Willie Slicer (Heirloom) – Organic
Tomato Bradley
Tomato Brandywine Beefsteak (Heirloom) – Organic
Tomato Bush Early Girl II
Tomato Bush Champion – Organic
Tomato Celebrity – organic
Tomato Champion II
Tomato Cherokee Purple (Heirloom) – Organic
Tomato Delicious
Tomato Early Girl – Organic
Tomato Goldie Ground Cherry – Organic
Tomato Grape – Organic
Tomato Green Zebra (Heirloom) – Organic
Tomato Health Kick
Tomato Jet Star
Tomato Juane Flamme Cherry (Heirloom) – Organic
Tomato Juliet – Organic
Tomato LaRoma III
Tomato Lemon Boy
Tomato Mortgage Lifter Slicer (Heirloom) – Organic
Tomato Old German
Tomato Opalka Paste (Heirloom) – Organic
Tomato Oxheart Giant Oxheart (Heirloom) – Organic
Tomato Pink Girl
Tomato Patio F Slicer – Organic
Tomato Pink Ponderosa Beefsteak (Heirloom) – Organic
Tomato Purple Calabash Slicer (Heirloom) – Organic
Tomato Red Pear Cherry – Organic
Tomato Roma VF Paste – Organic
Tomato Rutgers
Tomato San Marzano Paste (Heirloom) – Organic
Tomato Sheboygan (Heirloom) – Organic
Tomato Speckled Roman Paste (Heirloom) – Organic
Tomato Striped German Slicer (Heirloom) – Organic
Tomato Sun Gold – Organic
Tomato Sun Sugar – Organic
Tomato Super Fantastic
Tomato Super Sweet 100 Cherry – Organic
Tomato Sweet 100 Cherry
Tomato Sweet Million Cherry – Organic
Tomato Tomatillo Husk – Organic
Tomato Tumbling Tom Cherry – Organic
Tomato Wisconsin 55 Slicer – Organic
Tomato Yellow Pear
Tomato Yellow Brandywine Beefsteak (Heirloom) – Organic
Watermelon Crimson Sweet