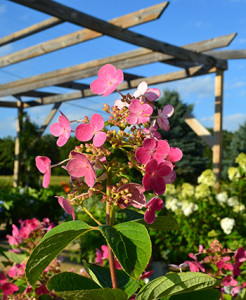 This year, we will be carrying several varieties of flowering and unique shrubs to spice up your landscape. Shrubs can be a great foundation for any garden; they can quickly eliminate bare spots in the garden by filling up large areas with a single low-maintenance plant. Some shrubs, such as Smoke-bush (Cotinus), provide a brilliant and striking backdrop for annuals or perennials. Other shrubs, such as Spiraea, Azalea, or Weigela add bold color and form to the garden landscape.
So, stop on by and browse our unique line of shrubs & trees. Click on the link below to view a list of our 2016 inventory of shrubs and trees.
2017 Shrubs and Trees List – COMING SOON!
Our inventory is constantly changing throughout the season. Please contact us if you have any questions regarding the shrubs & trees we carry. We may be able to custom order specific varieties.